Serving Central Pennsylvania since 1981
Welcome!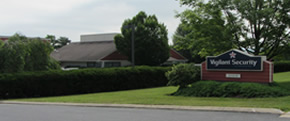 Vigilant Security, Inc. is located in State College, PA. We design, install, monitor and service Intrusion, Fire, Access Control, Video Surveillance , Personal Safety and Integrated Systems.

To become fully aware of how our products and services might be of assistance to you, please explore our web site and contact one of our professionals to design a system tailored to your needs.
Our Vision Our name was chosen with care as we believe our clients deserve unsurpassed reliability when it comes to protecting against common threats to life and property like fire, burglary, flooding, vandalism, and personal emergencies. Vigilant is not just our name, it is our attitude about protecting our customers.

We provide state-of-the-art solutions that will keep you on the leading edge (not the bleeding edge) of technology. We design systems that perform for you, not confound and confuse you. Read More